For many of us though, sustaining a 'business as usual' approach is essential, in spite of the unusual circumstances, and as such, at Elite Fine Wines we have followed government advice to leave our offices for now, and enable our staff to work safely from home.
Global markets are anything but ordinary at present – global stocks have reportedly lost $6 trillion since January when it became apparent that investors were concerned about the Coronavirus outbreak.
The good news is that fine wine has shown stability in spite of the uncertainty of COVID-19 – this reflects the historic trend that fine wine prices have not particularly correlated to global equity markets. We've seen this previously during the recession of 2007, and it is apparent that fine wine is still regarded as a relatively stable safe haven for assets.
Covid-19:
There is no doubt that the wine industry, like so many others, has been greatly disrupted by the current climate, with restaurants being forced to close and annual tasting events being either cancelled or postponed. However, it is encouraging to see that the secondary market for fine wine continues to hold its own.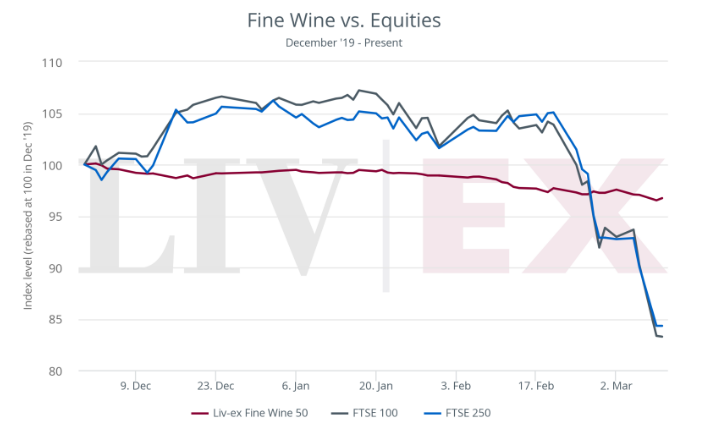 Test
As you can see from the graph below and the accompanying article here (published 16th of March), according to Liv-ex, the UK's main trading platform for fine wine, there is a certain reassurance in the statement that "fine wine has been almost boringly stable". Stability, in these turbulent times, is a highly desirable characteristic.