I hope this newsletter finds you and your loved ones safely during these challenging times. It's hard to imagine that only a few short weeks ago, none of us could have ever predicted we would shortly be experiencing this historic global lockdown. First and foremost, our thoughts are with those who have been personally affected, who have lost loved ones, and we extend our gratitude to those on the front line fighting the spread of the COVID-19 virus.
Business as usual – the 'new normal'
For many of us though, sustaining a 'business as usual' approach is essential, in spite of the unusual circumstances, and as such, at Elite Fine Wines we have followed government advice to leave our offices for now, and enable our staff to work safely from home.
Global markets are anything but ordinary at present – global stocks have reportedly lost $6 trillion since January when it became apparent that collectors were concerned about the Coronavirus outbreak.
The good news is that fine wine has shown stability in spite of the uncertainty of COVID-19 – this reflects the historic trend that fine wine prices have not particularly correlated to global equity markets. We've seen this previously during the recession of 2007, and it is apparent that fine wine is still regarded as a relatively stable safe haven for assets.
There is no doubt that the wine industry, like so many others, has been greatly disrupted by the current climate, with restaurants being forced to close and annual tasting events being either cancelled or postponed. However, it is encouraging to see the that the secondary market for fine wine continues to hold its own.
As you can see from the graph below and the accompanying article here (published 16th of March), according to Liv-ex, the UK's main trading platform for fine wine, there is a certain reassurance in the statement that "fine wine has been almost boringly stable". Stability, in these turbulent times, is a highly desirable characteristic.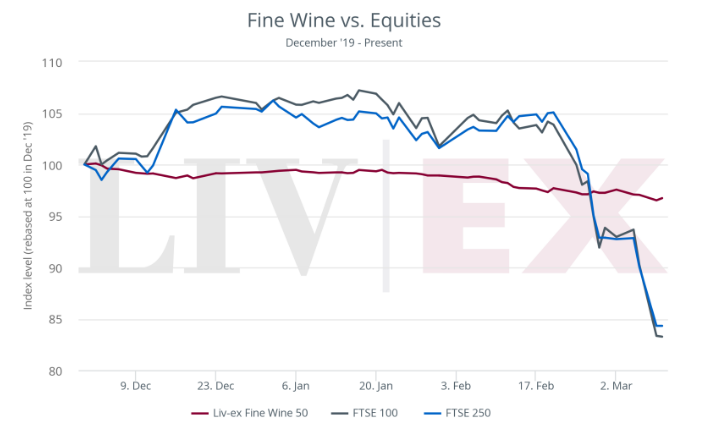 The bigger picture is that supply and demand are still the key drivers within the fine wine market. Investors do not appear to be panic selling. It is even possible to find reasonably priced wines in the current market, which many collectors are taking advantage of.
Fine wine consumption is also on the increase, as people who are stuck in their homes inevitably turn to their cellars in an effort to adjust to the 'new normal', enjoying fine wines at home. This will, of course, inevitably have an impact on the prices of certain wines as their stocks become increasingly limited.
Decanter have kindly recommended some excellent wine-related books to enjoy while we are spending time at home. Perhaps this will be a good opportunity for some of us to improve our wine knowledge! And if you are determined to resist diving into your collection, Will Lyons' list of the best affordable bottles from Bordeaux is well worth a look.
We wish you all the best during this unprecedented period. Take care, stay safe.
All the best,
The Elite Wine & Whisky Team